Specialty Air Filters, Gas Filters, and Liquid Filters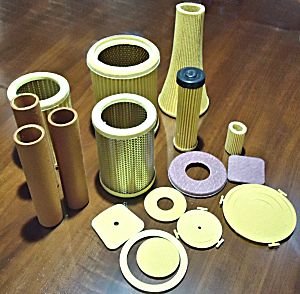 STD SPECIALTY FILTERS manufactures a full line of resin treated felt filters and gaskets. At our facility in Cleveland, OH, we have the ability to resin treat, pleat, mold or cut filters or gaskets to your specifications. We also have some customers who simply purchase resin treated felt fabric that is supplied in roll form to be molded or formed at their facility.
Many of our filters are either molded or pleated felt pieces that have had additional finishing. Because of the diverse types of filters we manufacture, we are able to provide filters with ends that are injection molded, epoxy, plastisol or plastic. We are also experienced in making filters that have rubber gaskets and grommets that are molded. Others are stamped to a particular size and thickness.
Resin treating the felt material allows us to mold and strengthen it, in addition to adjusting the porosity for each individual filtration application. The resin also makes the felt impervious to the gas, oil, air or chemical it is filtering. Service temperatures range from -40 degrees F to + 250 degrees F.
The pleated filters we make allow maximum filtration area for the space used. These filters have a variety of end caps depending upon their intended use.
As a specialty filter manufacturer, we are not set up for single one piece orders. At STD Specialty Filters our experienced engineering department will work with you to help efficiently develop a solution to meet your filtration requirements. Our filters are made to order per your specifications.
Case Study: Handling Increased Demand: The customer demand had suddenly increased by more than double.  They needed a higher quantity and very short turnaround. 
Pleated Filter, Why They Are A Good Choice: The most common uses for pleated filters are air intake filters for small gasoline engines (snow blowers, lawnmowers, chain saws, etc.).