Resin Treated Felt Gaskets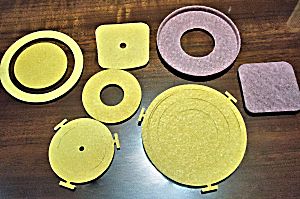 Our custom resin treated felt circles and pads are cut to specified sizes and shapes and are used as gaskets and in a variety of filters.  Resin treating the felt allows us to strengthen it, as well as to adjust the porosity for each individual filtration application.  This also makes the felt impervious to the gas, oil, air or chemical being filtered.  Some of the rings in the picture are gaskets which are used under the pleated filters.  The dished felt piece on the far top right shows the depth the felt can be drawn and the special shape it can hold.
Our punch presses and dies allow us to create the perfect part for your needs.  We have experience with simple filter discs, gaskets as well as some types that are more involved.  We pride ourselves on listening to your needs and providing your product in timely and effective manner at a reasonable price.
Applications for resin treated felt gaskets include:
Gaskets for refrigeration and air conditioning
Resin treated felt gasket photo gallery: